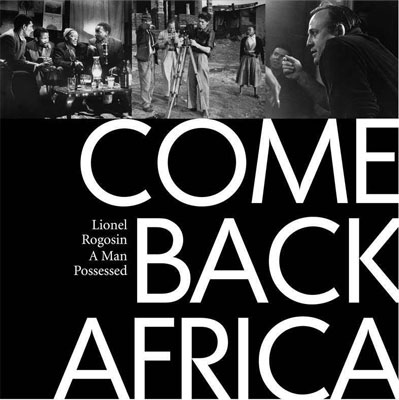 Book information
ISBN: 978-1-919855-17-2
Trim size: 240 x 240mm
Binding: hardcover
Page count: 142 pages           
Imagery: tbc
Cost: R425.00
Genre: Film / Cultural History
Description
Having already produced the widely acclaimed film, On the Bowery, about New York City's skid row, Lionel Rogosin came to South Africa in the late 1950s to explore the idea of making a film that would 'give a voice to the oppressed'. He quickly made contact with Can Themba, Bloke Modisane and Lewis Nkosi; writers associated with the crusading magazine, Drum, who have become legends in their own right. It was Rogosin's willingness to place Blacks at the centre of the film-making process and let them speak for themselves about life under apartheid that made this film entirely unique. Fortunately, Lionel Rogosin wrote down the story of what he and his Come Back Africa colleagues went through to make this important film. Peter Davis, a filmmaker who knew Rogosin well, has edited this into a highly readable account of what was, in effect, a grueling and often dangerous encounter with apartheid society. 
Come Back Africa reads like a suspense story as we are caught up in Rogosin's obsession. It takes us on a journey back in time to when the foundations of the apartheid state were being laid and give us a wonderful sense of what life was like in 1950s Johannesburg — especially the much mythologised Sophiatown.
Rogosin's insights and comments, as he tries to unravel and come to grips with the perplexing mess of racial intolerance, domination and bigotry that was South Africa, are revealing — about the times but also about Rogosin's own views and prejudices.
This book is a wonderful addition to the few treasured resources available to us about that period.